About Us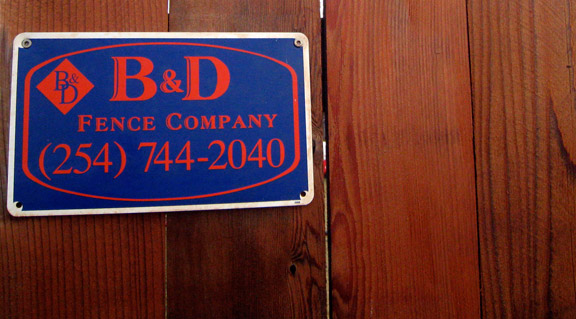 B & D Fence Company is a second generation company that started in 1973 by David Drummond in Groesbeck, TX. After years of success the business passed on to his son Jayson, who knows owns and runs the business daily. Jayson has had the experience of working on every aspect of fences as he worked for his father over the years so you can be sure that no detail is left out. Jayson moved the business's primary operation to Central Texas in 2001 to meet the growing need of quality fence for a great price and continues to work in every aspect of the company to ensure your fence is done right.
B & D Fence Company has been the most reliable fence company in the greater Central Texas area for over 25 years.
When it comes to getting the job done right, B & D Fence knows how to deliver. Our estimators, installers, quality control division, service crews and staff have worked closely on fencing projects for over 20 years. We have dealt with every aspect of a fence project. Our finished product does the speaking for us and we gladly stand behind all of our work and products. We currently serve Central Texas, both commercially and residentially.
Our focus is quality.
What makes B & D Fence unique? Unlike most fence companies, our estimators will own your project from start to finish. There is no production department that our estimators hand projects off to. They own your project from "A" to "Z".  B & D Fence's primary focus is quality. To achieve this goal, we are organized, as a company, to build the highest quality fences in Texas. Our installation crews report directly to our estimators. We have a dedicated Quality Control division. The average tenure of our estimators is the longest in the industry. The average tenure of our erectors is the longest in the industry. There's a reason for this. We treat people fairly, hold our people accountable for the work they do, build a quality product and as a result, bring value to our customers.
As a team, B & D Fence brings the following to your fence project:
A strong sense of ownership, by everyone, for your fence project
Established direct relationships with quality-oriented fence material manufacturers in the industry
The highest quality fence materials in the industry
B & D is bonded and insured for your protection
B & D warranties all work and material
Please take a look at the portfolio of work that we have collected on the product pages. We hope that you will allow us to assist you with your fence project when the time comes.
When you think fence, think B & D Fence!